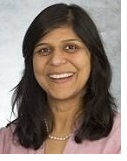 Prof. Anu Gokhale
Illinois State University, USA
Dr. Anu A. Gokhale has completed twenty-five years of university teaching and is currently a professor and coordinator of the computer systems technology program at Illinois State University. She is named Fulbright Distinguished Chair in STEM at the University of Pernambuco, Brazil, 2016-17; is a Fulbright Specialist; and was a Fulbright Scholar to India in 2002. She is a Visiting Professor at Shandong University of Science & Technology in Jinan, China during spring 2017. Dr. Gokhale was honored with the 2011 University Outstanding Researcher Award. Originally from India, she has a master's in physics‒electronics from the College of William & Mary, and a doctorate from Iowa State University. She presents and publishes her peer-reviewed research, and pursues multi-year projects funded by agencies like the US Department of Education, US Department of State, and National Science Foundation. The current NSF funded project is in Computing Education for the 21st Century. Dr. Gokhale authored a second edition of her book Introduction to Telecommunications, which has an international edition in Chinese. She continues to be an invited keynote speaker at various conferences, latest ones include: 2016 International Conference on Communication and Information Systems, Bangkok, Thailand; 2015 International Conference on Information Technology, Amman, Jordan; and 2014 International Conference on Control, Robotics and Cybernetics, Singapore. She consults for businesses and has delivered multiple workshops. As an active volunteer in IEEE, she has served as R4 Educational Activities Chair, Women in Engineering Coordinator, Chair of International Electro/Information Technology 2010 Conference, and MGA representative to Educational Activities Board. She was honored with the IEEE Third Millennium Medal.

Prof. Dongli Han
Nihon University, Japan
Dongli Han was born in 1973. He received a B.S. degree in Computer and Information Science from Harbin Engineering University, China, in 1995. He received a M.S. degree and a Ph.D. degree in Computer Science and Information Mathematics from the University of Electro-Communications, Tokyo, Japan, in 2000 and 2003. He had been working at Aoyama University since 2003 for three years as a research associate and then became a faculty staff in2006 at Nihon University in Tokyo, Japan. From December 2011 until July 2012, he had been working with Professor Ungar Lyle as a visiting scholar at the University of Pennsylvania in the United Sates. Since April 2014, he has been a professor and a doctoral supervisor at Nihon University. His research interests lie in the fields of Artificial Intelligence, including knowledge engineering, human computation, and natural language processing. He has published more than 40 journal or international conference papers so far, many of which have been indexed by SCI or EI. He is a member of ANLP and IEICE.
Invited Speakers 特邀报告人

Prof. Ben Choi
Louisiana Tech University, USA
Ben Choi, Ph.D. & Pilot, has a Ph.D. degree in Electrical and Computer Engineering and has a Pilot certificate for flying airplanes and helicopters. He is an Associate Professor in Computer Science at Louisiana Tech University, US. He was a visiting Research Scholar at DePaul University, University of Western Australia, and Hong Kong University of Science and Technology.
He had worked in the computer industry as a System Performance Engineer at Lucent Technologies (Bell Labs) and as a Computer Consultant. He received Ph.D., M.S., and B.S. degrees from The Ohio State University, studied Computer Science, Computer Engineering, and Electrical Engineering.
His areas of research include Humanoid Robots, Artificial Intelligence, Machine Learning, Intelligent Agents, Semantic Web, Data Mining, Fuzzy Systems, and Parallel Computing. His future research includes developing advanced software and hardware methods for building intelligent machines and theorizing the Universe as a Computer.